Chef Damiano, hailing from the picturesque Porto Santo Stefano in Tuscany, Italy, has always had a deep-rooted passion for cooking. Having learned the art of preparing local seafood and traditional Tuscan dishes in his mother's kitchen, his culinary journey began at an early age. At just 14 years old, Damiano embarked on his professional cooking career at Il Cavallino, a renowned restaurant frequented by Italy's VIPs, known as the "consigneti." For the next 16 years, he honed his skills and crafted a repertoire of specialties at Il Cavallino and Ristorante Del Greco, with his pasta, fish, and risotto gaining particular acclaim. And let's not forget his incredible Tiramisu!
Destiny took a turn when Damiano met his future wife, Monica, during her extended visit to Italy. Inspired by love and the pursuit of new opportunities, Monica encouraged Damiano to embark on a new chapter in the United States. They packed their bags and settled in Hilton Head, South Carolina, where Damiano initially joined as Sous Chef at the highly esteemed Neno Il Toscano. His talent quickly propelled him to the position of Head Chef, and he proudly earned the recognition of "Best of Fine Italian Dining" from The Food Network. After eight successful years in Hilton Head, the Schiano family yearned to be closer to Monica's relatives, leading them to the breathtaking Emerald Coast.
Since their arrival, Chef Damiano has made his mark in the local culinary scene. He has lent his expertise to several esteemed restaurants, served as a personal chef, and delighted patrons with his authentic Italian creations while working as a lunch chef at Cuvee Bistro in Destin.
Now, embracing the next phase of his culinary adventures, Chef Damiano is thrilled to offer his exceptional Personal Chef and catering services to the Destin, Santa Rosa Beach, Rosemary Beach, Miramar Beach, and 30A areas. With his profound understanding of Tuscan cuisine and unwavering commitment to delivering unforgettable dining experiences, he is ready to bring the flavors of Italy to your table.
Contact Chef Damiano today and embark on a culinary journey that combines the beauty of Tuscan cuisine with the stunning coastal landscape of Northwest Florida.
Beautiful Porto Santo Stefano, Italy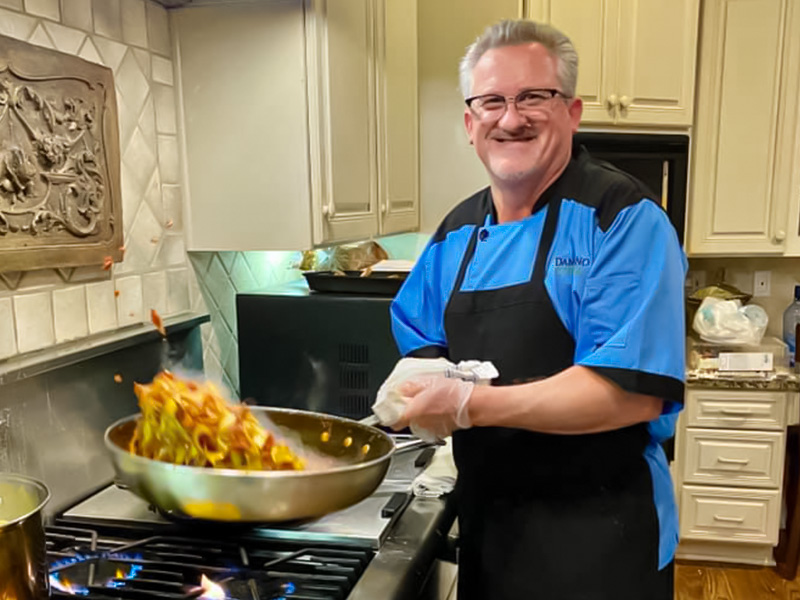 Buon Cibo. Buon Vino. Buon Amici.
Spending time with friends around the dinner table creates magical moments in our lives. In Italy, this is a way of life! Book a memorable dinner event for you, your family, and your friends!
BOOK NOW